Last month, to my great excitement, I launched my online poetry classes (you can try my online poetry workshop one week for free by clicking here!). When it comes to creative writing courses, there aren't many affordable options. Many creative writing classes can cost several hundred dollars, require up-front payment, and often require serious financial and time-commitments. My online poetry workshop costs only $34.99 each month and you can cancel anytime. While other writing courses require writers to attend weekly courses and submit work every week for 10 to 12 weeks at a time, my online poetry workshop lets you submit your work at your own pace any time during the month. And every month, you'll receive personalized feedback from me, an instructor who holds an MFA in poetry from Columbia University. On the last Sunday of the month, I'll also host a live online Zoom poetry workshop, where we'll discuss the poetry and writing submitted during the month, and also discuss the craft of writing in general. 
Last month, my online poetry workshop went live. Our first online writing class on Zoom was a small group of inspiring and inspired poets. I look forward to watching this group grow. I found the discussions we had so exciting and encouraging that I feel ready to open the workshop to a wider audience. I am so thrilled to announce that I'm offering new members a chance to try my online poetry workshop one week for free. You can join by clicking here. If you tried before with another link and it didn't work, please try again. I had to resolve some technical difficulties (the former one-week free link was a single-use invitation).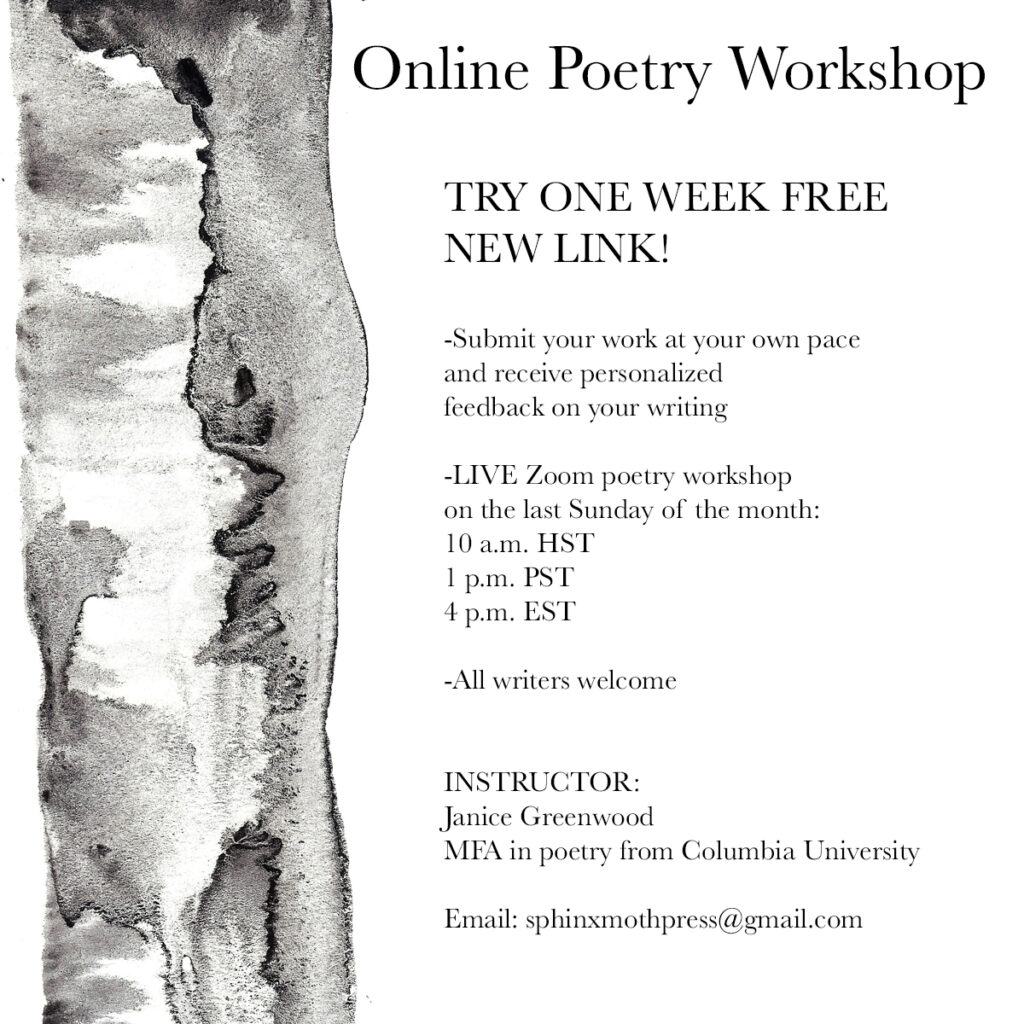 When you join my online poetry workshop you get:
To submit your work and receive personalized feedback on your writing. I can't wait to read your work!
Attend a LIVE Zoom poetry workshop held on the last Sunday of the month. 10 a.m. HST; 1 p.m. PST; 4 p.m. EST.
Access on-demand video classes with writing exercises and prompts to keep you inspired and writing.
Join a community of inspired and inspiring writers!
While the workshop focuses on the craft of poetry, all writers are welcome. We also discuss non-fiction and fiction, and submissions of all kinds are read with delight. The goal of each online poetry workshop is to focus on our writing at the level of the sentence and the word. If you have short prose or fiction pieces you want to share or short pieces of non-fiction or fiction for which you'd like to receive feedback, feel free to join!
A writing workshop is also only as good as the instructor. While many online poetry workshops tell you the credentials of who will teaching, not all of them do.
This online poetry workshop will be taught and facilitated by me. I'm Janice Greenwood, a published writer and poet. I hold an MFA from Columbia University in creative writing and poetry. I have interned at the New Yorker magazine, and have taught introductory writing classes at Columbia Artists/Teachers, at the John Jay College of Criminal Justice, and at Mohawk College. My book was a finalist for several poetry book prizes and I was also a finalist for the Ruth Lilly Poetry Fellowship. My work has appeared in New England Review, Honolulu Magazine Online, Climbing Magazine, the Intertia, and elsewhere.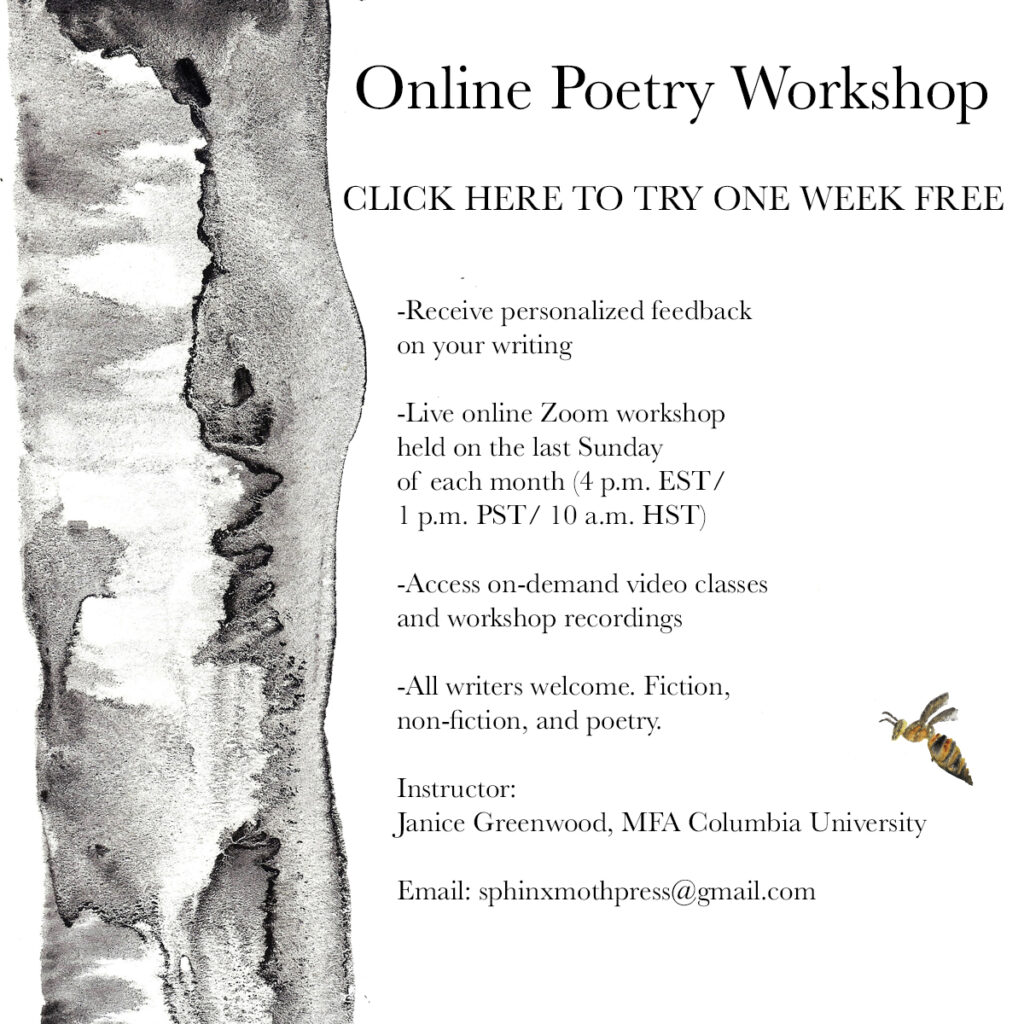 About the Writer
Janice Greenwood is a writer, surfer, and poet. She holds an M.F.A. in poetry and creative writing from Columbia University.